BEST KIZER KNIVES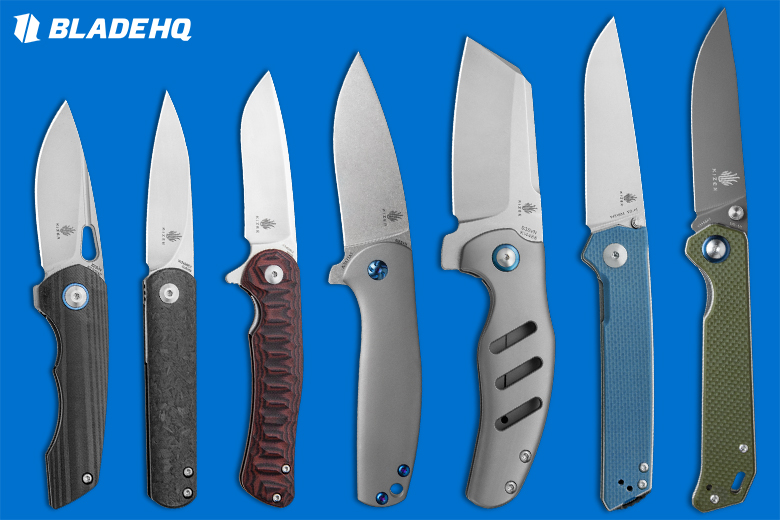 Are you looking to add another great knife to your EDC rotation without absolutely breaking your bank? Now more than ever it feels like you must make your dollars stretch further and that can be a challenge when it comes to buying quality knives. Kizer Cutlery is known for producing high-quality knives with premium materials and amazing ergonomics at a fraction of the cost of other knife brands. Whether you're looking for a simple EDC knife to beat up or a fancy blade for special occasions, there's definitely a Kizer knife for you. Read on to check out our Top 7 Kizer Knives!
Check out the top seven Kizer knives below. Catch a review from one of our beloved customers at the end of each breakdown!
The Kizer C01C features a heavy-duty cleaver design from Chris Conaway of Sheepdog Knives. Its large sheepsfoot style blade is made from premium CPM-S35VN stainless steel with a stonewashed finish. The blade deploys effortlessly on a smooth ball bearing pivot and locks up solid. Contoured titanium handle scales provide a comfortable grip and a resilient build. The Sheepdog offers a remarkable combination of tactical functionality and a refined, stylish appearance. Available in several sizes (check out the
Sheepdog XL
; it's quite impressive!), materials and colorways.
Overall Length: 7.75"
Blade Length: 3.25''
Blade Material: CPM-S35VN
Handle Material: Titanium or G-10
Locking Mechanism: Frame or Liner Lock

Kelly A. says...
"When I first saw this knife I was apprehensive, the price and honestly the brand made me worried it wouldn't hold up to my other knives. After watching a review I decided to take a chance and well... I was wrong. Perfectly centered, chamfered, sharp and with great action to boot. I was impressed, and I still am! The XR lock is super strong and the fidget factor is off the charts. More than that, however, I beat the crap out of this knife and it keeps on cutting. Impressive knife."


Knifemaker Justin Lundquist designed this Feist knife after losing his favorite EDC knife. With a lifelong passion for fine art and traditional craftsmanship, Justin applied his extensive camping and hunting experience to create this clean, lightweight EDC folder. The refined look and smooth flowing lines set the Feist apart from other EDC knives. It has a CPM-S35VN steel blade with a front flipper opener. Add a highly functional piece of knife art to your collection with the Kizer Feist. Available with either Titanium or Carbon Fiber handles.
Overall Length: 6.50''
Blade Length: 2.875''
Blade Material: CPM-S35VN
Handle Material: Carbon Fiber or Titanium
Locking Mechanism: Liner Lock


David F. says...
"I've recently fallen in love with Kizer knives and couldn't pass up the Feist. Makes for a perfect small gentlemen's folder. Very attractive knife that isn't going to offend but still get the job done. Smoothest action that you can always expect from Kizer and that front flipper is fun to test your friends with. Fit and finish was very nice with perfect blade centering. Beautiful little knife and worth every penny."
Begleiter essentially means "awesome everyday carry folder," but its actual German translation is "companion." Designed for those who prefer a slim profile, the Begleiter delivers. It has a capable gray titanium coated blade and reliable stainless-steel liner lock mechanism. The handle is outfitted with green G-10 scales, inset from the satin liners, and the pivot features blue collar accents. It has an open build with two barrel-spacers on either side of the elongated lanyard hole. The EDC-ready design includes a reversible tip-up carry clip. Check out the
Kizer Mini Begleiter
if you're looking for a smaller knife.
Overall Length: 8.125''
Blade Length: 3.50''
Blade Material: VG-10
Handle Material: G-10
Locking Mechanism: Liner Lock

Kiet D. says...
"It's perfect, looks great, grip is amazing. Super super sharp right out of the box. Best bang for the buck, can't really find a Knife with a VG-10 blade for this pricing. No cons on this piece. Thinking about purchasing the black one too. Definitely recommending this one."


The Kizer Microlith was designed by knife maker Nick Swan and features an S35VN steel blade with carbon fiber handle scales and a stainless-steel liner. The blade has a bead blast finish and sports a flipper tab and thumb slot for convenient opening. To reduce the weight of the knife even more, there is no steel liner on the non-locking side. It includes a 3D milled titanium pocket clip for convenient carry
Overall Length: 6.00''
Blade Length: 2.375''
Blade Material: CPM-S35VN
Handle Material: Carbon Fiber or Titanium
Locking Mechanism: Liner Lock

David M. says...
"This is an awesome knife. It's lightweight, sharp, and feels great in hand. For people who like to carry multiple knives, this one is a perfect fit for your watch pocket. And even if you only carry one knife at a time, the performance of the blade is so good you'll forget how small it actually is."


The Kizer Vanguard Series Domin offers a practical EDC design free from unnecessary embellishments. Its handle is outfitted with textured G-10 scales, stainless steel liners, and a subtle G-10 backspacer with a built-in lanyard hole. The Domin comes with a stainless-steel pocket clip for tip-up everyday carry. The Domin is available in both a full-size and a
mini version
, and a variety of colors. Check it out today!
Overall Length: 8.00''
Blade Length: 3.46''
Blade Material: VG-10
Handle Material: G-10
Locking Mechanism: Liner Lock

Tom B. says...
For a knife that costs about 50 dollars this is damn near perfect. I also own the Kizer Begleiter which was also top-notch in every way and was the motivating factor to pick up the Domin. Fit and finish are near flawless, buttery smooth action, perfect size and weight, excellent blade shape that's actually useful, left-hand friendly reversible pocket clip.... I could go on and on. Just do yourself a favor and pick one up.


The Kizer Gemini flipper is a Ray Laconico designed, folding knife based on his custom Jasmine folder. The build on this production model is superb, offering great fit and excellent action. The Vanguard Gemini has a full-flat ground Bohler N690 steel blade with a fine stonewash finish. It's set on a ball-bearing pivot, which offers phenomenal action. Gemini features a grippy handle in either titanium, carbon fiber or G-10 placed over a skeletonized stainless-steel liner (carbon fiber and G-10 only). A backspacer adds a nice touch, and the tip-up carry clip accommodates EDC duty. Like the original Kizer Gemini flipper, the
Vanguard Series Gemini
is certain to impress, but you can't go wrong with either model!
Overall Length: 7.25''
Blade Length: 3.125''
Blade Material: Bohler N690
Handle Material: G-10, Carbon Fiber or Titanium
Locking Mechanism: Frame or Liner Lock

Seth B. says...
"This knife right here is simply superb. The action is smooth as can be running on ceramic ball bearings. The full titanium handles are sleek and great looking. All the edges have been rounded giving the knife an amazing feel in hand. The blue accents on the knife give it a tasteful look that will impress even the non knife people. Kizer is competing at a top level in the knife industry. I'm very impressed and will be excited for their designs in the future."


The Kizer Dukes is the brain child of Matt Cucchiara. Originally released as a titanium frame lock folding knife, the Dukes features a slender drop point, flipper blade, and is now available in a more affordable G-10 version. Kizer translated the design of the original titanium Dukes in impressive fashion to their Vanguard Dukes using durable and affordable materials. Milled ridges in the G-10 handle scales offer a firm, no-slip grip during use. Responsive flipping action, a lightweight build, and an affordable price point makes this flipper a must have in any EDC rotation. The Vanguard version of the Dukes features a Bohler N690 stainless steel blade with a satin finish, while the titanium version features a wicked sharp CPM-S35VN blade.
Overall Length: 8.50''
Blade Length: 3.625''
Blade Material: Bohler N690 or CPM-S35VN
Handle Material: G-10 or Titanium
Locking Mechanism: Liner or Frame Lock

Michael F. says...
"This was my first Kizer and after a year I'm still very impressed. It flips great, better than my Kizer Shoal which is fantastic too. VG-10 blade and shape is superb. The handle has a generous amount of real estate and texture. The pocket clip is nice but shiny and obvious. I love my Spydercos but the Dukes is often in my pocket and gets plenty of use. Great quality at a nice price."


---
CONCLUSION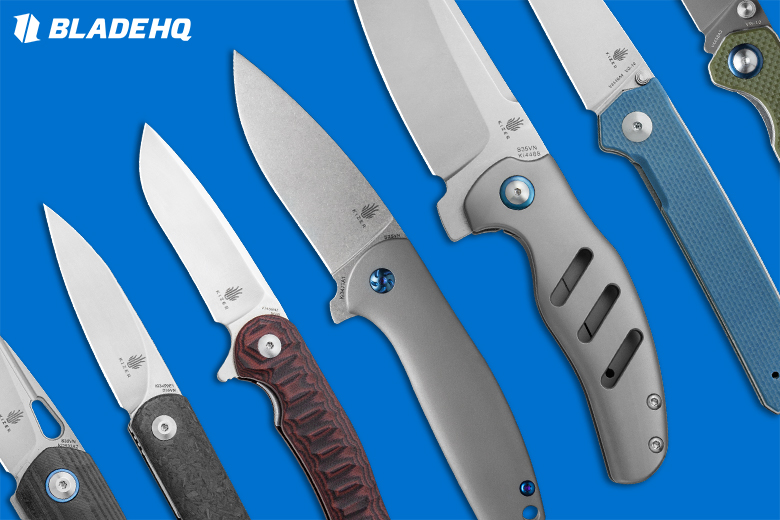 Kizer Cutlery makes affordable and well-made knives featuring high-quality materials and innovative design. The attention to detail put into their production and their history of collaborating with some of the best knife designers in the world has quickly propelled Kizer into the top tiers of the knife world. Whether you're into fancy folders or ergonomic everyday knives, there's bound to be a Kizer knife for you. Though this list doesn't cover every Kizer product, it is a great start for what Kizer has to offer and will serve as a great start for those looking to expand their collection. Click the button below to see more from Kizer Cutlery.
If these Kizer knives don't catch your eye or meet your needs, check out our full line of Kizer Cutlery knives by clicking below.
While these are our top Kizer recommendations, Blade HQ has got way more knives than those featured here. Leave a review of your favorite and follow us on
Instagram
,
Facebook
, and
Twitter
for all your future knife updates.
---
LEARN MORE
In this video, we check out the latest releases from Kizer Cutlery fo 2021. They walk us through up-and-coming products and give us a taste of what Kizer knives are all about. Watch and enjoy!